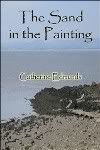 An Impressionist seascape fascinates student Emma on a visit to an art gallery. Grains of sand are caught forever in the painting – trapped – just as she is in her claustrophobic relationship with antiques dealer John. The next two weeks will decide their future, as Emma is increasingly drawn towards the enigmatic Toby. Only Evan knows Toby's secret, and how it will fundamentally affect any relationship with Emma. He is torn between patient confidentiality and his duty to his friend, complicated by his own frustrated desires. An unexpected stay at a seaside cottage brings matters to a head. Meanwhile, John's life is slowly falling apart. The outrageous Renée can sense the impending crisis, but knows from past experience how hard it is to help John. Each one of them must learn to face their individual failings and deal with them – to come to terms with their own sand in the painting.
"Catherine Edmunds has a natural talent for designing believable characters, strong settings and a powerful mastery of the complexities and inner workings of the 'human condition'. " - Louis P Burns, Upstate Renegade Productions.
THE SAND IN THE PAINTING by Catherine Edmunds, ISBN 1-4241-1168 is available directly from the author or the publisher, plus all major online bookstores. For further details please
click here.